6 Unique Gites in the Heart of the Loire
Famous for its views, vineyards and market gardens, the Loire Valley was also the favoured country retreat for a succession of French Kings. Today its impressive castles attract thousands of visitors each year and there are so many castles to see it can be headache choosing which to visit.
Unlike many British castles, built to conquer territory and cower the local population, most French castles of the Loire were built as summer palaces for the rural relaxation of royalty or as sumptuous residences for the French nobility.
So, a holiday visit to a Loire Valley castle offers much more than a tour of the battlements and a poke around some damp prison cells. Expect ravishing rooms stuffed with artistic antiques and wonderful wall hanging; grand refectories and the finest French dining, examples of the best architecture set in acres of woodland parks and ornamental gardens galore.
Here are are some brief reviews and information on just three of the best castle in the Loire to visit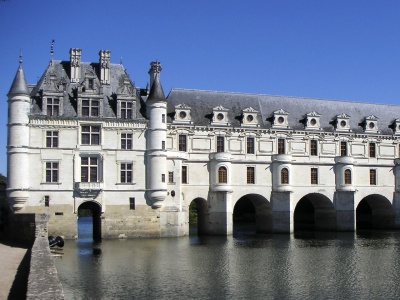 Generally acknowledged as one of the most beautiful castles in the Loire region, Chenonceau has been a long-time favourite of Loire holiday visitors. It began life as a small non-descript castle perched on the wooded banks of the River Cher. But after King Henry II squired it for an unpaid debt in 1547 he handed it to his beautiful mistress, Diane de Poitiers.
It was love at first sight and builders were set to work extending the castle over the river with a spectacular five-arched bridge and creating huge flower and vegetable gardens among the stone buttressed terraces. On the king's death in 1559, the mistress got thrown out by Henry's widow Catherine de Medici who moved in herself, refurbishing the rooms and extending the gardens.
Now one of the most visited castles in France, Chenonceau is noted for its splendid Renaissance architecture and superb gardens. Furnished and decorated with rare tapestries and paintings, it is enjoyed not only for the impressive gardens but for its great vineyards.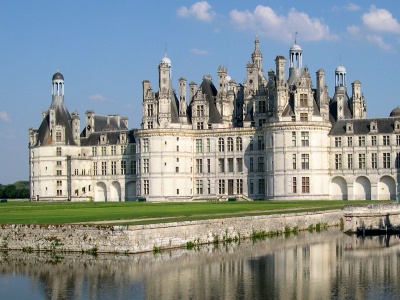 Set in a woodland park and surrounded by a 20-mile wall, Chambord is one of the best example in France of late Gothic and early Renaissance architecture. Visitors may find its colossal size a little overwhelming; Chambord is by far the largest castle in the Loire with more than 400 rooms, over 70 staircases and, so it's claimed, a fireplace for every day of the year.
Hard to believe that Chambord Castle was originally earmarked by King Francois I as a hunting lodge and even harder for visitors to take in the remarkable skyline. Designed to emulate the city spires of ancient Constantinople (modern-day Istanbul) Chambord's rooftops are littered with hundreds of domed towers and sculpted chimneys. Famed for its 17th century draperies and tapestries, the centrepiece of Chambord is a double-helix staircase said to have been designed by the great Leonardo da Vinci himself.
Villandry Castle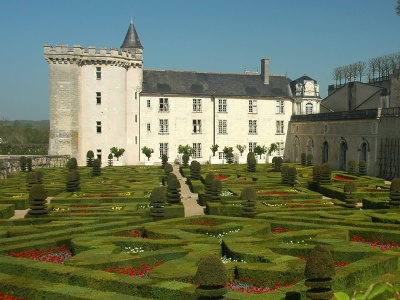 If Chamford has the architecture, the castle at Villandry has the gardens. Designed by the same man who built Chambord, Jean Le Breton saved all his garden design skills for Villandry's near perfect example of a Renaissance garden.
Banking on his experience as an ambassador in Italy Breton applied his skills to create what many consider to be the best example of Renaissance style garden to be found anywhere in the world.
For garden lovers, a holiday visit to Villandry has pretty much everything; from exquisite flower and water gardens to beautifully patterned vegetable gardens, all laid out in a formal landscape of low box hedges and intricately patterned pathways.
The castle remained in the hands of Le Breton family until the early 20th century and since then new private owners have dedicated themselves to restoring, replanting and rebuilding these astonishingly beautiful gardens.